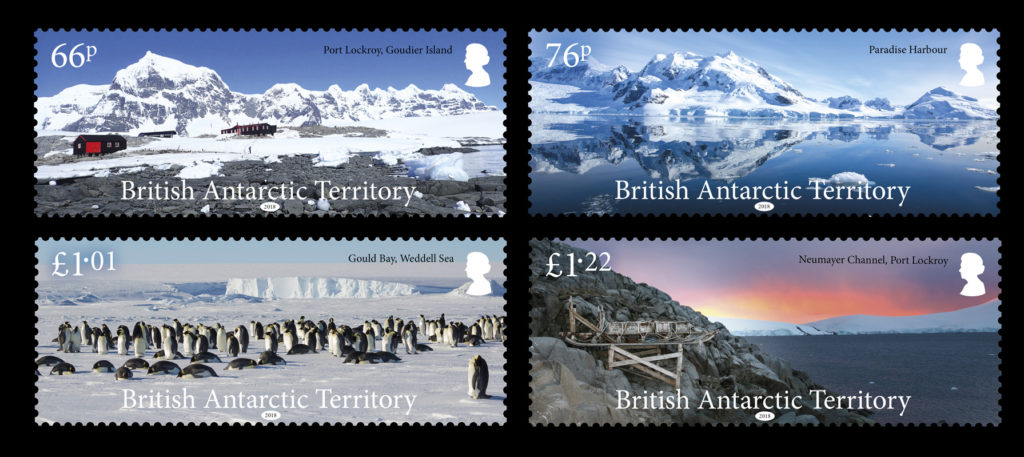 The vistas in Antarctica are some of the most stunning landscapes humans have set eyes on. The wild, dramatic skylines have been inspiring art, science and exploration for the last two hundred years and many parts still remain mysterious and untouched. The untamed natural environment and unique light quality create an almost dream-like impact that imprints itself on to the imagination.
Port Lockroy, Goudier Island 66p
Named after E. Goudier, chief engineer of the expedition ship Français, Goudier Island is a small low-lying rocky island in a sheltered glacial area. At the beginning of the season, fast ice is likely to surround much of it, making it difficult to access. Snow cover melts back during the summer, allowing for the safe passage of visitors on to the island. It is home to Port Lockroy, a historic scientific base, living museum and functioning post office. Here, you can see the base nestled in front of the stunning Seven Sisters mountains as the ships would see it when pulling in to a harbour.
Paradise Harbour 76p
Paradise Harbour is a wide bay formed by islands close to the Antarctic Peninsula. It is known for its stunning views and its rich wildlife populations. The surroundings are humbling, consisting of heavily glaciated mountains and ice cliffs. It is also home to a spectacular group of icebergs that create fascinating shapes and reflections. This is known to be one of the most photogenic areas of the Antarctic Peninsula.
Gould Bay, Weddell Sea £1.01
Gould Bay is home to a large emperor penguin colony. They reside on the northeast corner of Berkner Island in the Weddell Sea. The Weddell Sea is not what you might think of as a sea as it is frozen solid and flat except for trapped icebergs. The view makes for long stretches of undisturbed landscapes and dramatic horizons.
Neumayer Channel, Port Lockroy £1.22
Neumayer Channel is named after a German explorer and scientist, Georg von Neumayer, who sailed it during his Antarctic expedition of 1897 – 1899. The channel is an 'S' shaped waterway through dramatic glaciers. The waterway's mountain vistas, ice-covered cliffs, steep glaciers, and occasional whale sightings make Neumayer Channel one of the most stunning passages of the Antarctic Peninsula. Here you can see one of the Nansen sledges on Chains Landing, which is one of the first things visitors to Port Lockroy will see when they land on Goudier Island.
Technical Details
| | |
| --- | --- |
| Designer | Bee Design |
| Photography 66p, £1.22 | UKAHT |
| Photography 76p, £1.01 | © Sue Flood |
| FDC | Polar Regions Department, FCO |
| Printer | Cartor |
| Process | Stochastic lithography |
| Perforation | 13 ¼ x 13 ½ per 2cms |
| Stamp size | 42 x 28mm |
| Sheet Layout | 20 (2 x 10 Se-tenant pairs) |
| Release Date | 1 November 2018 |
| Production Co-ordination | Creative Direction (Worldwide) Ltd |