The UK Antarctic Place-names Committee (APC) considers proposals and makes recommendations for place names within the British Antarctic Territory (BAT).  Once the Commissioner endorses the names, they can be used in reports, publications, maps and charts.
The UK APC website maintains a gazetteer for all UK approved names within BAT.
The Committee
The committee is composed of representatives and experts from the fields of Antarctic research and toponymy. It includes representatives from each of the following organisations:-
Government of British Antarctic Territory
British Antarctic Survey
Permanent Committee on Geographical Names
Royal Geographical Society
Scott Polar Research Institute, University of Cambridge
UK Hydrographic Office
UK Antarctic Heritage Trust
In addition, there are up to three expert members with expertise in Antarctic toponymy and up to two ad hoc members with expertise in relevant disciplines.
Past highlights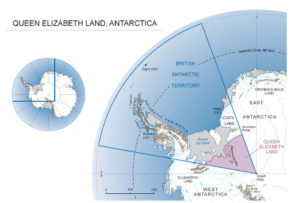 To mark the Queen's Diamond Jubilee, the then Foreign Secretary William Hague announced that the southern part of the British Antarctic Territory had been named 'Queen Elizabeth Land' in honour of the Queen's sixtieth year on the throne. The previously unnamed area is around 169,000 square miles (437,000 sq km), making up just under a third of the whole land mass of the Territory.  This is almost twice the size of the UK.