Port Lockroy is on Goudier Island (64º49'S, 63º30'W) off the Antarctic Peninsula.
Following a conservation survey in 1994, British 'Base A' – Port Lockroy was recognised for its historical importance and designated as Historic Site and Monument No. 61 under the Antarctic Treaty.
In 1996, we funded a team from the British Antarctic Survey to renovate the buildings in 1996. Since then the site has been open to visitors during the Antarctic summer (November to March).
It is now managed by the UK Antarctic Heritage Trust (UKAHT) who operate the site as a 'living museum' including a very popular small gift shop. All profit from the shop proceeds goes towards renovation of other historic sites in Antarctica.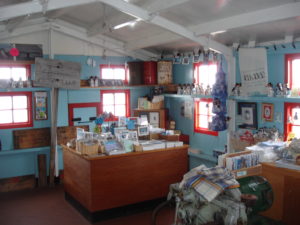 Port Lockroy is not only an important natural and historic environment, but also a destination for many from around the world who want to come and learn more about the Antarctic.
The UKAHT team consistently monitor, through a long-term environmental study, now running for more than a decade, the impact of visitors to the site.  Partly this involves counting the number of penguins and their chicks present on the island. This study helps regulate the number of visitors and ships visiting the area, as well as, imposing strict site guidelines to ensure the environment is properly cared for.
Post Office
Port Lockroy is the UK's most southerly public Post Office  – affectionately known as the Penguin Post Office.  The UKAHT operate the Post Office on our behalf.  Around 70,000 cards are posted each year to over 100 countries.
Life at Port Lockroy
There is a small team which work from Port Lockroy each year, living in close quarters with no running water and limited facilities.
You can catch up with life at Port Lockroy by reading the latest blogs from the small team working there during the austral summer.