As part of a regular series on the meaning of place-names in the Territory, this latest edition focuses on this  field season with BAS operations and logistics coordinating visits to a wide variety of sites.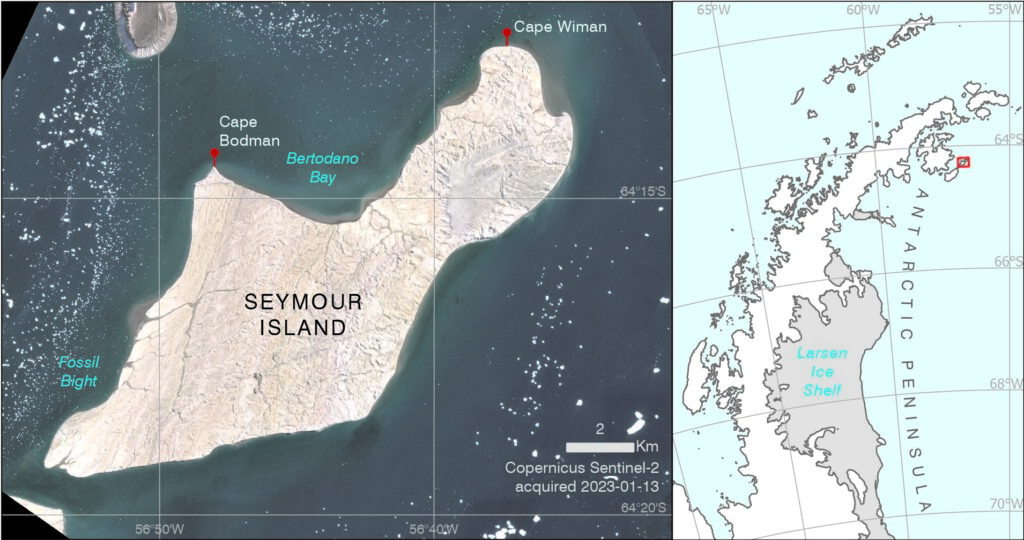 Seymour Island will be visited in the 2023/24 season. It was first sighted by James Clark Ross in 1843 and named after Rear Admiral Sir George Francis Seymour RN and thought to be a cape until 1892 when charted by Larsen. During 1892-93 Larsen made landings on the island and the first recorded fossils from the Antarctic were collected.
Further south, Fossil Bight is so named after the numerous fossils found in the region by the United States Antarctic Research Program (USARP) and Argentine researchers in 1982. Cape Wiman is named after Carl Johan Josef Wiman, Professor of Palaeontology (1911-33), who worked on fossils collected by the Swedish Antarctic Expedition (SwAE).
Related to that expedition, Bodman Point is named for Dr Gösta Bodman, member of the sledge party of SwAE in 1902-03. Similarly, Bertodano Bay is named after J. López de Bertodano of the Argentine corvette Uruguay, which rescued the SwAE in 1903.
For information about British Antarctic Territory place-names and guidelines on how to submit new proposals, visit the Committee website.
Credit
With thanks to the British Antarctic Survey for the text.