As part of a regular series on the meaning of place names in the Territory, this latest edition focuses on Irish inspired Antarctic place names.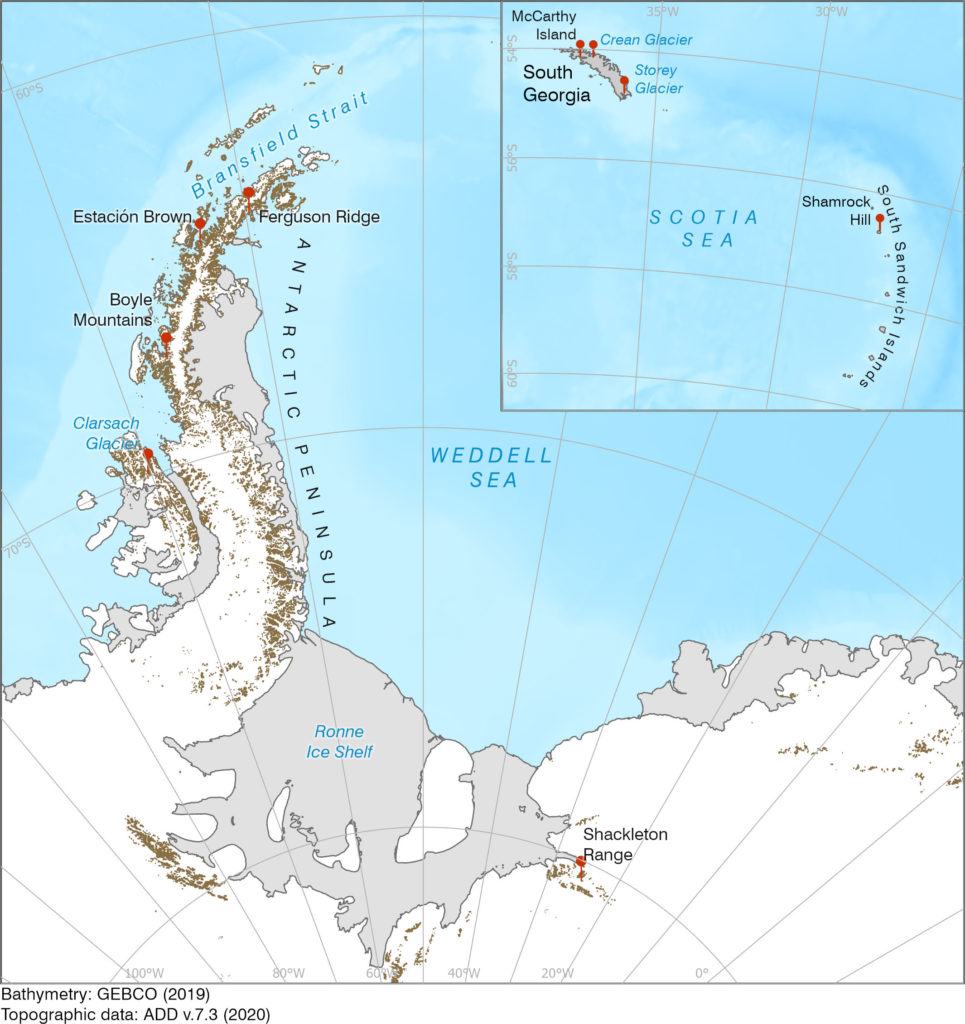 On 17 March, St Patrick's Day, 2021 there are at least 75 names in Antarctica and the sub-Antarctic islands named for 45 persons of Irish birth. The names date from early expeditions through to living scientists working in Antarctica.
Twelve names commemorate Sir Ernest Shackleton, born in County Kildare, covering most regions of the continent (eg Shackleton Range), South Georgia, and an oceanic feature, as well as RRS Sir Ernest Shackleton.
Other notable names include:
Bransfield Strait, and three other features, named after Edward Bransfield, born in County Cork, (as well as RRS Bransfield, BAS ship from 1970 to 1999).
Crean Glacier, South Georgia, and two other features, for Thomas Crean, born in County Kerry, member of Shackleton's South Georgia crossing; also McCarthy Island, South Georgia, Timothy McCarthy, aboard the James Caird, born in County Cork.
Cape Crozier, Ross Island, and destination for 'The Worst Journey in the World', Francis Crozier, County Down, Captain of HMS Terror.
Storey Glacier, South Georgia, Professor Bryan Storey, born Dublin, BAS geologist and later Director of Gateway Antarctica, New Zealand.
Names for prominent people who never visited Antarctica include:
Boyle Mountains, Graham Land, Robert Boyle, County Waterford, chemist and founding member of the Royal Society.
Estación Brown, Antarctic Peninsula (Argentine summer station), Admiral William Brown, County Mayo, leading figure in Argentine independence and founding of the Argentine Navy.
Ferguson Ridge; East coast of the Antarctic Peninsula, Harry Ferguson, County Down, pioneer of overland mechanical transport, notably the Ferguson Tractor, which reached the South Pole in 1958.
Shamrock Hill, South Sandwich Islands, was used for a survey station on St Patrick's Day, 1964; Clarsach Glacier, northern Alexander Island, has the shape of a clarsach (Irish harp).
For the full list, see UK APC website
For information about British Antarctic Territory place-names and guidelines on how to submit new proposals, visit the Committee website.
Credit
With thanks to the British Antarctic Survey for the image and text contributed by Robert Headland, Scott Polar Research Institute.