As referenced in Jane Rumble's blog in January, the UK Foreign & Commonwealth Office and the Government of the British Antarctic Territory are supporting a Diversity in Polar Science initiative to promote and enhance Antarctic science opportunities to under-represented groups. Donna Frater is leading this work and sets out more about what this involves.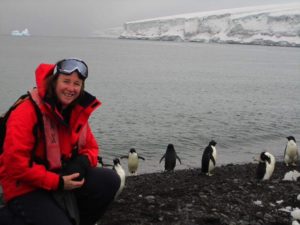 I am a geologist with over 20 years' experience across Australia, Africa and the Pacific. I am enthusiastic about science being accessible to everyone and have been involved with networking and advocacy groups for many years. I believe that more diverse research teams and science teams produce greater innovations and discoveries and that the research worked on then represents all of society and its needs.
What is the Diversity in Polar Science initiative?
Polar science is at the forefront of climate change and planetary science. It is not being studied by a wide diversity of people. Currently less than 3% of people working in UK polar science come from a BAME (Black, Asian, and Minority Ethnic) background. The gender balance is improving but is not being sustained with cultural change towards equality and inclusion. An improved understanding of the value of inclusion would also help with unrepresented LGBTQ+ people and in attracting more diverse early career scientists. This new initiative is designed to look into the reasons why polar science culture is slow to change with society, identify any barriers and advocate ongoing policy recommendations to improve diversity.
Why are we doing this?
Polar science needs to be cutting edge and embrace change and the energy of innovation that diversity and inclusion brings. To future proof polar science and its value to the planet we must evolve from the mono culture and appreciate diversity more. To better understand the polar regions we need a range of difference views and perspectives and only by broadening this can we better work together to protect these precious regions.
Upcoming work
From 16 to 20 March the British Antarctic Survey are opening its doors to researchers and post-graduate students in STEM subjects from groups underrepresented in polar research – including BAME, LGBT+ and disability. The week will enable those who usually don't get a close up view of Antarctic science and research to understand the work that is being done and to explore their options to pursue opportunities in polar science.
The UK Foreign & Commonwealth Office and the Government of the British Antarctic Territory Diversity in Polar Science initiative is a ground breaking project to look at the current situation in UK Antarctic science, to research the current situation, help explore the reasons why and then work with the fantastic organisations doing science in this space to improve diversity and inclusion.