Pobjoy Mint have just released another Boaty McBoatface 50p coin on our behalf.
This new coin compliments the first coin issued in 2018 and celebrates the official naming of the RRS Sir David Attenborough.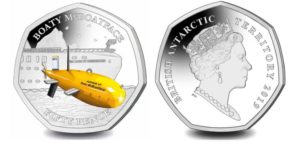 Autosub Long Range vehicles like Boaty help Oceanographers investigate processes that drive changes in the Polar Regions. This sophisticated vehicle can travel for thousands of kilometres on missions that last for long periods. Boaty and similar autonomous vehicles can reach depths of 6000 metres, which enables them to explore a vast percentage of the ocean.
So make haste! Order this fabulous coin while you still can and help us to support important scientific projects that go towards protecting Antarctica and it's amazing wildlife. New releases such as this and others can be purchased from all good coin stockists.