To commemorate Her Majesty The Queen's 95th Birthday, Pobjoy Mint have released a new 50-pence coin in her honour for the British Antarctic Territory.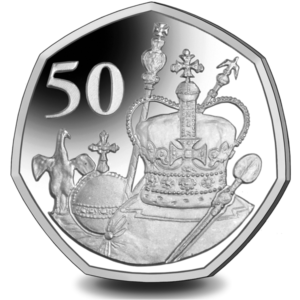 Her Majesty Queen Elizabeth II has two birthdays to celebrate each year – her actual birthday is on 21st April whilst her official birthday is on 10th June.
When Her Majesty turns 95 on 21st April 2021, she will make history as the first British monarch to reach this age. This is another major milestone during her long reign, having already become the longest-reigning British monarch when she passed Queen Victoria's record in 2015.
The coin features the Crown Jewels. The current Crown Jewels date back to 1661, as Parliament ordered the previous Crown Jewels to be melted down and used for coinage in 1649. The centrepiece of this coin is the Imperial State Crown, or St Edward's Crown, named after Edward the Confessor as it is believed the central sapphire was worn by the King in his ring.
This crown is set with jewels of great antiquity and historical significance, and contains over 3,000 diamonds and pearls, as well as fine sapphires, emeralds and rubies. The design also includes the Orb and the Sceptre, along with the Ampulla and Spoon.
Did you know?
To mark the Queen's Diamond Jubilee in 2012, the then Foreign Secretary, William Hague, announced that the southern part of the British Antarctic Territory had been named 'Queen Elizabeth Land' in honour of the Queen's sixtieth year on the throne. The previously unnamed area is around 169,000 square miles (437,000 sq km), making up just under a third of the whole land mass of the Territory. This is almost twice the size of the UK.