To mark 200 years since the discovery of the South Shetland Islands and the first landing in the British Antarctic Territory, we produced a series of tweets using the hashtag #UKinAntarctica200.
These tweets provided a small snapshot of the history of the British Antarctic Territory and the UK's involvement in Antarctica from early exploration to modern day protection.
If you're not on Twitter you can read all the tweets below!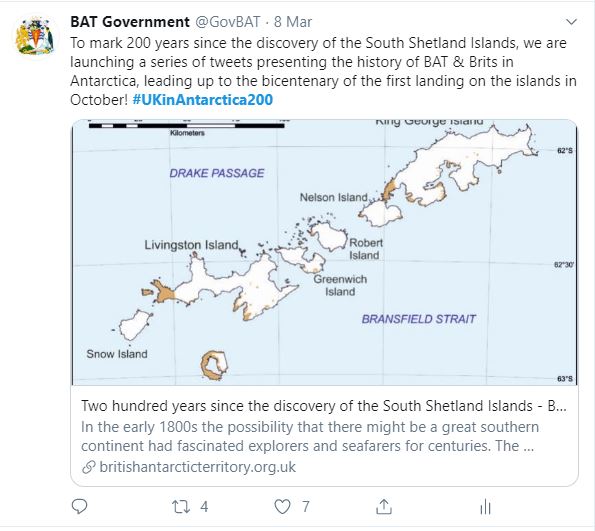 30 Jan 1820
Edward Bransfield & William Smith first sighted Trinity Peninsula, the northernmost part of the Antarctic Peninsula! Further events are planned for 2020 to mark the discovery of Antarctica! Keep an eye out on our website! #UKinAntarctica200
6 Dec 1821
Brit George Powell & American Nathaniel Brown Palmer discovered and charted the South Orkney Islands. Today, British & American scientists continue their legacy of UK-US Antarctic cooperation! #UKinAntarctica200 @BAS_News International Thwaites Glacier Collaboration
20 Feb 1823
James Weddell reached a new Furthest South at 74°15'S. Today, the UK is a proud co-sponsor of proposals to establish a Marine Protected Area in the Weddell Sea at CCAMLR. #UKinAntarctica200
1830-1832
John Biscoe sighted Enderby Land & Adelaide Island, and claimed the Antarctic Peninsula for Britain. From 1956 to 1991, the RRS John Biscoe continued his legacy, supporting UK science operations in Antarctica. #UKinAntarctica200
24 May 1830
The Royal Geographical Society was established in London for the advancement of geographical sciences. Today, BAT work with @RGS_IBG & BAS to promote Antarctica to a new generation through the Discovering Antarctica website. #UKinAntarctica200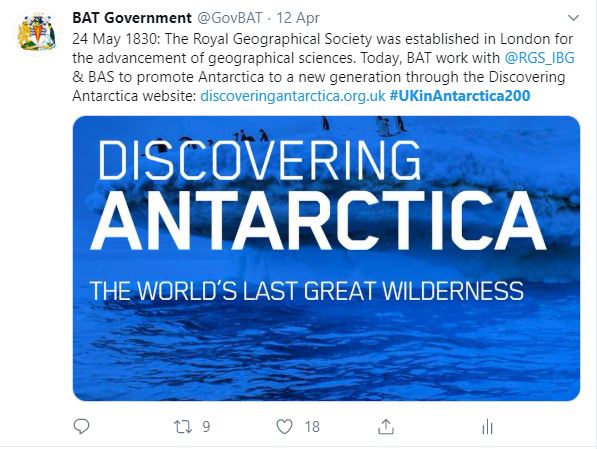 1839-1843
James Clark Ross discovered the Ross Ice Shelf, Ross Sea, Mount Erebus & Victoria Land, extending his Farthest South to 78°10′ S on 23 Jan 1842. Today, the RRS James Clark Ross continues to support UK scientific research around Antarctica. #UKinAntarctica200
1898-1900
Norwegian-born Carsten Borchgrevink led the Southern Cross Expedition, the first British expedition of the Heroic Age of Antarctic exploration, and the first to over winter on the mainland at Cape Adare #UKinAntarctica200
1901-1904
British National Antarctic Expedition: Captain Robert Falcon Scott led the Discovery expedition, reaching a new Furthest South at 82° 17'S. His crew contained many who later became famous for Antarctic exploration – Shackleton, Wilson, Wild & Crean. #UKinAntarctica200
4 Feb 1902
Capt Scott made the first flight in Antarctica, conducting aerial reconnaissance from hydrogen balloon Eva, reaching 250m above the Ross Ice Shelf. Today's balloons provide weather forecasts & monitor changes in the earth's climate #UKinAntarctica200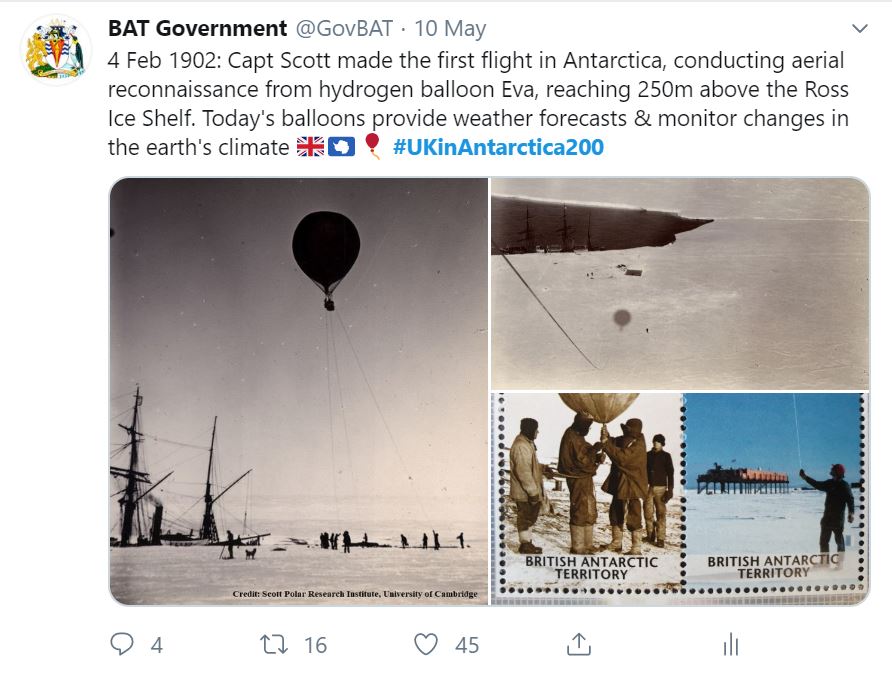 1902-04
Scottish National Antarctic Expedition set up the first permanent metereological station in Antarctica at Laurie Island in the South Orkney Islands. The ruins of Omond House remain today as a historic site #UKinAntarctica200
1909
Shackleton's Nimrod expedition were forced to give up in their quest to reach the South Pole just 180km from their destination. RRS Ernest Shackleton recently retired from service @BAS_News but will continue supporting Polar research @OGS_IT #UKinAntarctica200
17 Jan 1912
Robert Falcon Scott's Terra Nova Expedition reached the South Pole, just 33 days after the Norwegian, Roald Amundsen. Scott's entire party died on the return journey, but humanity had at last stepped foot on the South Pole. #UKinAntarctica200
1914-16
Shackleton's Imperial Transantarctic Expedition aimed to cross the continent from sea to sea. With Endurance stuck in ice, Shackleton sailed the open seas to South Georgia, crossing mountains & glaciers to find shelter and launch the rescue mission. #UKinAntarctica200
1922
Shackleton-Rowett Expedition: Before he could set off for Antarctica, Sir Ernest Shackleton died on South Georgia, where he remains buried today. Shackleton's death is seen as having marked the end of the Heroic Age of Antarctic Exploration. #UKinAntarctica200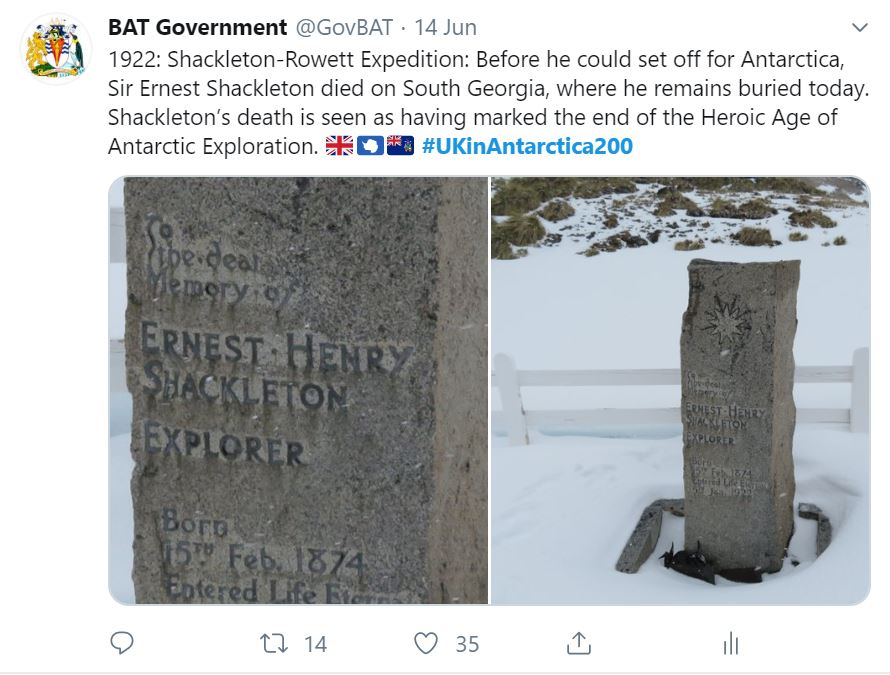 1921-22
Thomas Bagshawe & Maxime Lester camped over winter at Waterboat Point, conducting metereological & zoological surveys and collecting data for a whole year for the first time. This was the smallest expedition ever to overwinter in Antarctica. #UKinAntarctica200
1925
UK Discovery Investigations of the Southern Ocean begin. Continuing until 1951, these UK-funded scientific studies formed the beginnings of our modern understanding of marine ecosystems and the ocean food web. #UKinAntarctica200
16 Nov 1928
Australian Hubert Wilkins & American Carl Ben Eielson made the first powered flight in Antarctica, taking off from Deception Island in the South Shetlands. Today modern aircraft continue their legacy supporting scientific research in Antarctica #UKinAntarctica200
1934-37
The British Graham Land Expedition used aerial surveying to prove for the first time that the Antarctic Peninsula was, indeed, a peninsula and part of the Antarctic mainland, not a series of islands as previously thought #UKinAntarctica200
21 Nov 1935
First sighting by plane of Mt Hope on the Antarctic Peninsula. New satellite data from @BAS_News in 2017 showed it was 377m taller than previously thought, making it BAT's tallest mountain at 3,239m above sea level  #UKinAntarctica200
Jan 1944
Operation Tabarin marked the beginnings of the British Antarctic Survey @BAS_News and the start of the UK's permanent year-round presence in Antarctica. Today, Port Lockroy (Base A) is preserved and managed as a historic site by @AntarcticHT #UKinAntarctica200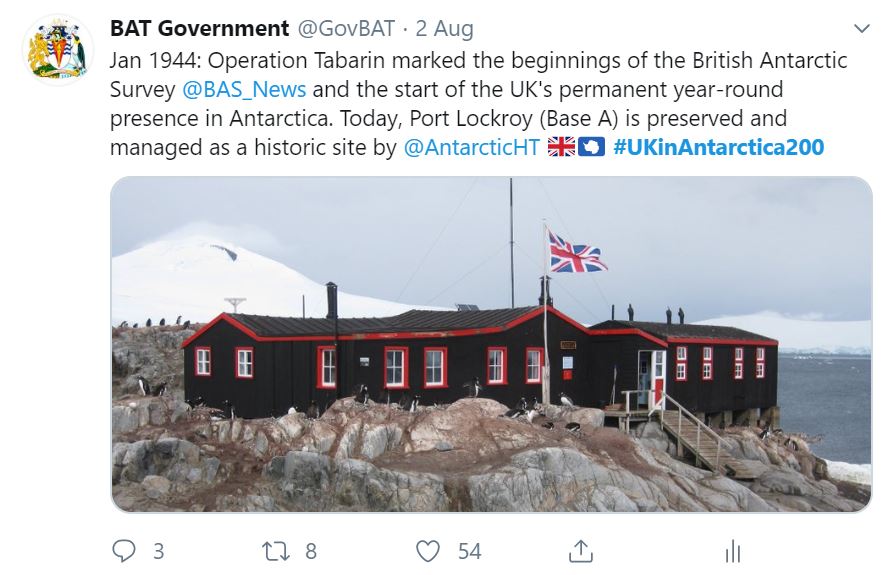 1955-58
The Commonwealth Trans-Antarctic Expedition, led by Sir Vivian Fuchs, undertook the first successful land crossing of Antarctica from the Weddell Sea to the Ross Sea via the South Pole. #UKinAntarctica200
1956
Halley Research Station was established near Halley Bay, on the Brunt Ice Shelf, for the International Geophysical Year 1957-58. Today, its successor Halley VI continues its legacy of world-leading scientific research @BAS_News #UKinAntarctica200
1 Feb 1963
The first official British Antarctic Territory stamps were issued. Re-released in 2013 to celebrate 50 years of BAT stamps, they depicted Antarctic exploration by land, sea and air. Visit our new website for more #UKinAntarctica200
25 Oct 1975
Rothera Research Station was established on Adelaide Island, conducting a wide range of scientific research that continues today. The largest
@BAS_News station, Rothera also acts as a logistics hub, supporting BAS science across Antarctica #UKinAntarctica200
1985
Scientists from @BAS_News discovered the Ozone Hole over Halley & Faraday stations.  The resulting Montreal Protocol prompted a slow recovery in the ozone layer over Antarctica, demonstrating the power of global action to protect the environment #UKinAntarctica200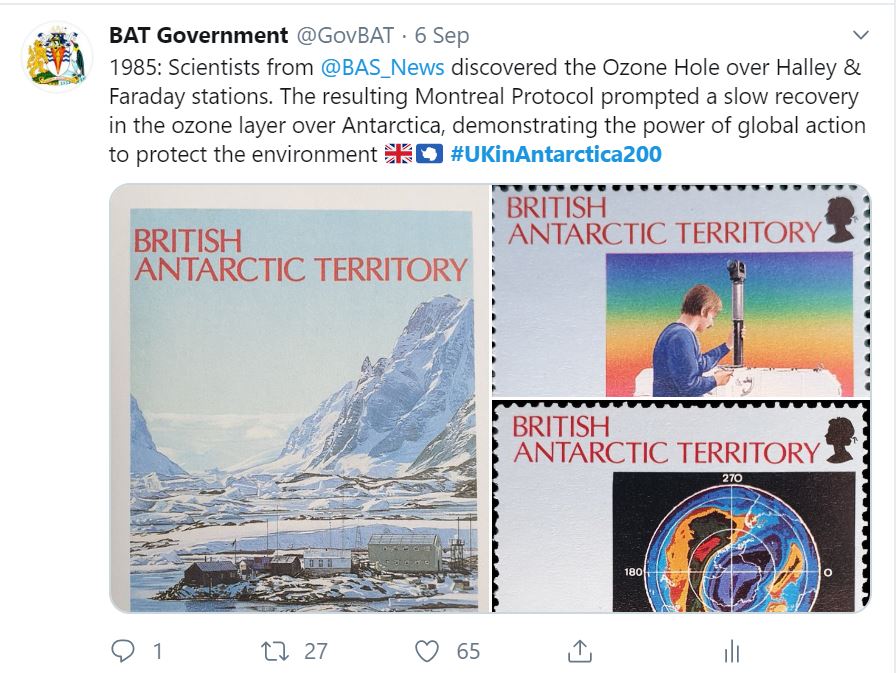 1991
The International Association of Antarctica Tour Operators @iaato_org was formed. We share IAATO's commitment to promote safe and environmentally responsible tourism, creating ambassadors for the continued protection of Antarctica #UKinAntarctica
2009
The first Antarctic Marine Protected Area was established around South Orkney Islands.  The UK led international efforts through CCAMLR to protect 94,000 sq km of the Southern Ocean.  The UK supports calls for greater protection waters. #UKinAntarctica200
2012
The southern part of BAT was named Queen Elizabeth Land in honour of the Queens's Diamond Jubilee.  At around 169,000 sq miles, it is alsmost twice the size of the UK & makes up just under a third of the whole land mass of the Territory #UKinAntarctica200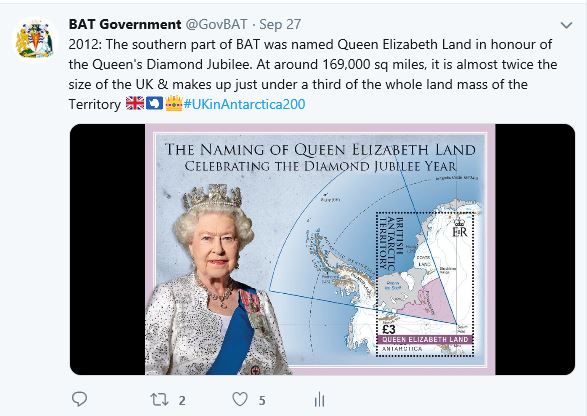 2017
The first wedding in BAT was celebrated at Rothera station. Under BAT law, all couples, including same-sex couples, can apply for a marriage licence.  Find out more #UKinAntarctica
26 Sept 2019
The Royal Research Ship Sir David Attenborough was officially named.  As we celebrate 200 years of #UKinAntarctica this week, the #RRSSirDavidAttenborough will support a new generation of British Research and Discovery in Antarctica. #UKinAntarctica200
16 Oct 1819
Today we are celebrating 200 years since the first known landing in the British Antarctic Territory, by William Smith on King George Island in the South Shetland Islands. #UKinAntarctica