Our friends at Pobjoy Mint have released a new 50p coin, HMS Erebus.
In the year which marks the 200 year anniversary since the discovery of Antarctica, the HMS Erebus coin celebrates the 220 years since the birth of Captain James Clark Ross.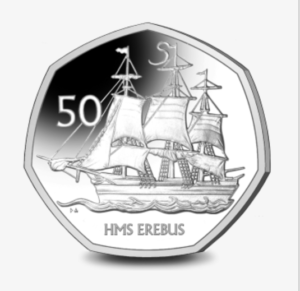 Captain Ross discovered the Antarctic's largest ice shelf while commanding the ship HMS Erebus. And as if having the largest ice shelf on the continent (the Ross Ice Shelf) named after him wasn't enough, Captain Ross also had the Ross Sea named after him!
Interestingly, unlike the RRS James Clark Ross in service today, HMS Erebus was originally a bomb vessel, designed for bombarding positions on land (such as forts)! Despite its successful voyages of discovery in Antarctica the vessel is perhaps better known today for its tragic end, disappearing during the Franklin Expedition to discover the North West Passage. The wreck of the Erebus was only discovered in 2014, with its companion HMS Terror not long after. In 2017, the British Government transferred ownership of both wrecks to Canada.
Be sure celebrate the life of the great explorer on this momentous bicentennial year by ordering this beautiful coin from Pobjoy Mint..