To commemorate the Centenary of William Speirs Bruce who led the Scottish National Antarctic Expedition (1902-1904), Pobjoy Mint have released a new 50p coin for 2021 depicting Bruce's ship, Scotia.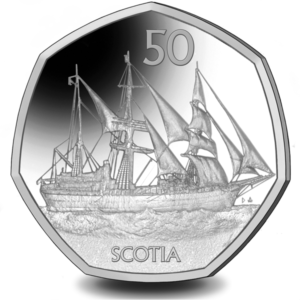 William Speirs Bruce was a British naturalist, polar scientist and oceanographer who organised and led the Scottish National Antarctic Expedition to the South Orkney Islands and the Weddell Sea. In 1901, Bruce purchased a Norwegian whaler and during the following months, the ship was transformed into an Antarctic research vessel with two laboratories, a dark room and specialist equipment. It was also equipped with 11,000 metres of cable to allow for deep sea trawling for marine specimens and other equipment for the collection of sea water and sea bottom samples. The hull of the ship was reinforced to withstand the pressures of the Antarctic ice.
Renamed Scotia the expedition left Troon in Scotland in November 1902 and headed south towards Antarctica where Bruce intended to set up winter quarters in the Weddell Sea quadrant. Having got stuck in the heavy ice, the Scotia retreated to Buenos Aires until she was able to set sail again, following repairs in January 1904 to explore the Weddell Sea. In March of that year, new land was sighted which Bruce named Coats Land, but in danger of becoming icebound, Scotia turned north again for the long voyage back to Scotland. One of the achievements of the expedition was to establish the first permanent weather station in Antarctica which is still operational now.
This coin commemorates the 100th anniversary of the death of William Speirs Bruce who passed away in October 1921. Help mark this centenary by ordering this new coin from Pobjoy Mint.